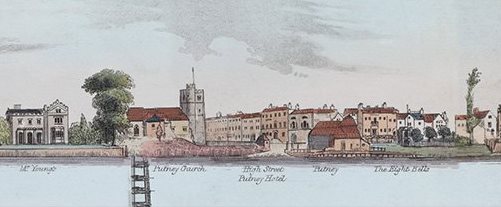 The Thames in London (1829): A Panoramic View
In April of last year, I travelled to Fishmonger's Hall by London Bridge to be interviewed by Charlie Luxton, as part of the Illuminated River project. The initiative was part of a multi-million pound art commission to light many of the bridges in the capital. A 3-part documentary about the project was commissioned by ITN and was shown on Channel 4. It chose to also feature certain aspects of the Thames' history in order to highlight the rich heritage and importance of the famous waterway. Unfortunately much of the content was not shown in the final footage, including my interview in which we discussed leisure on the river, such as the Princess Alice disaster, but the real shame was that Samuel Leigh's 1829 panoramic map also did not make the cut. The little known piece of (folded) work was laid out across the entire length of the hall. It contains a meticulously detailed picture of what the waterside looked like (on both banks) between Richmond and Westminster at that time. The idea was that a traveller on the river could unfurl the picture as they travelled along the 15-mile section. The fascinating record of history not only depicts many famous landmarks, like Westminster Palace and the Millbank Penitentiary, but also lesser-known buildings of importance for Thames leisure, such as Searle's of Stangate and the Feathers in Wandsworth, where the Salter family were originally based. The map has been reproduced in a modern book called Panorama of the Thames – A Riverside View of Georgian London.
You can CLICK HERE to view the map (and then on the location you wish to view).