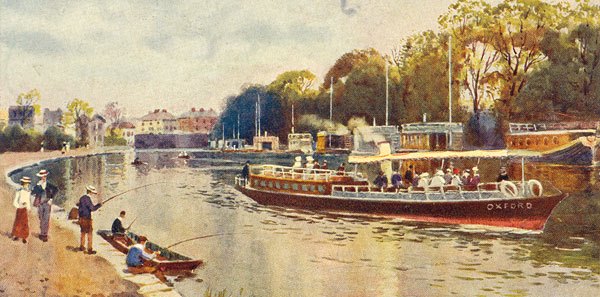 Recommended resources on the history of the river Thames
There has been a vast amount written about the river Thames, mainly at the popular level. If you are wanting to study the (recent) history of river Thames, here is a list/bibliography of helpful resources [some are mentioned more than once, as they fall into more than one category]:
Bibliography
A good place to start for suggestions is B. Cohen's The Thames 1580-1980: a General Bibliography (London, 1985), which lists a huge number of resources thematically. A longer one (some of which is summarised below) can be found in S. M. Wenham, 'Oxford, the Thames and Leisure: a History of Salter Bros, 1858 – 2010' (Oxford DPhil Thesis, Michaelmas 2012).
Popular
There are an absolutely vast number of popular books about the Thames and below are just a very small selection of them:
P. Ackroyd, Sacred River (London, 2007)
R. R. Bolland, Victorians on the Thames (Tunbridge Wells, 1994)
F. Dix, Royal River Highway: a History of the Passenger Boats and Services on the River Thames (Newton Abbot, 1985)
P. Burstall, The Golden Age of the Thames (Newton Abbot, 1981)
F. Thacker, The Thames Highway, 2. vols
D. G. Wilson, The Victorian Thames (Stroud, 1993)
Online Resources
There are loads of great river Thames resources, but www.thames.me.uk is one that contains a lot of historical information.
Academic
J. Armstrong and D. M. Wiliams, 'The Steamboat and Popular Tourism', Journal of Transport History, vol. 26, issue 1 (March 2005), pp. 66-77
J. Blair (ed.), Waterways and Canal-Building in Medieval England (Oxford, 2007)
D. Blomfield, 'Tradesmen of the Thames: Success and Failure Among the Watermen and Lightermen Families of the Upper Tidal Thames 1750-1901' (Kingston University PhD thesis, 2006)
L. Tickner, 'Messing About in Boats: E. J. Gregory's Boulter's Lock: Sunday Afternoon (R. A. 1897)', Oxford Art Journal, 25 February 2002, pp. 1-28
R. Stewart-Beardsley, 'After the Railway: A Study of Socio-Economic Change in Five Rural Parishes in the Upper Thames Valley, 1830-1901' (Reading University PhD thesis, 2009
S. Wenham, 'Oxford, the Thames and Leisure: a History of Salter Bros, 1858-2010 (Oxford University DPhil thesis, Michaelmeas, 2012)
D. M. Williams and J. Armstrong, 'The Thames and Recreation, 1815-1840', The London Journal, vol 20, no. 2 (November 2005), pp. 25-36
N. Wigglesworth, The Social History of English Rowing (London, 1992)
Archives
The Berkshire Record Office is one of the best locations for primary sources relating to the Thames, but there are other good locations like the Henley River and Rowing Museum and the Museum of London Docklands.
Periodicals
The Lock to Lock Times and its successor, The Thames, are fantastic resources about the river, whilst Motor Boat contains a great deal about early motorised (non-steam) vessels.
Reference books and Guidebooks
There are a huge number of guidebooks and reference guides to the river, which provide a lot of information about the state of the river at certain points of times. Below are some good ones (in chronological order):
Mr and Mrs S. C. Hall, The Book of the Thames (London, 1859)
H. Taunt, A New Map of the Tiver (London, 1872)
Salter's Guide to the Thames [57 editions from 1881 to 1969]
C. Dickens, Dickens' Dictionary of the Thames (London, 1880)
Historic firms
A. J. Arnold, Iron Shipbuilding on the Thames 1832-1915 (Aldershot, 2000)
P. Banbury, Shipbuilders of the Thames and Medway (Newton Abbot, 1971)
K. C. Barnaby, 100 Years of Shipbuilding and Engineering (London, 1964) [on Thornycroft]
Classic Boat, August 2010, pp. 62-5 [on Turks of Kingston]
E. Hawthorne, Electric Boats on the Thames 1889-1914 (Stroud, 1995)
L. Lacey-Johnson, Edwin Clark: Steamboat-Builder of Brimscombe (Eastbourne, 2000) [a Gloucestershire-based firm that built many Thames craft]
S. Pollard and P. Robertson, The British Shipbuilding Industry 1870-1914 (London, 1979)
Thames Guardian, Spring 1998, pp. 16-7 [on Hobbs of Henley]
S. M. Wenham, Pleasure Boating on the Thames: a History of Salter Bros, 1858-2010 (Stroud, 2014)
R. L. Wheeler, From Sea to Air (Newport, 1989) and From River to Sea (Newport, 1993) [on Sam Saunders]
D. G. Wilson, The Thames: Record of a Working Waterway (London, 1987)
Thames Resorts
There are a few resources about Oxford and the river. Mary Prior's work examines the waterways community (canal and river) at Fisher Row, whilst Simon Wenham's work picks up the story in the post-railway age. R.T. Rivington looks at the activity of punting, whilst the Oxford Waterways Group show what the river was like in the third quarter of the twentieth century.
Oxford Waterways Actions Group, Oxford Waterways (Oxford, 1974)
M. Prior, Fisher Row (Oxford, 1982)
R. T. Rivington, Punting (Oxford, 1983)
S. Wenham, Pleasure Boating on the Thames: a History of Salter Bros, 1858-Present Day (Stroud, 2014)
Other locations:
G. Clark, Down by the River: The Thames and Kennet in Reading (Reading, 2009)
G. Leslie, Our River (London, 1881) [Leslie lived in the Goring area]
S. Townley, Henley-on-Thames: Town, Trade and River (London, 2009)
The Sport of Rowing
Neil Wigglesworth's book is a great overview of rowing in England (and Dodd's book on international rowing), whereas there are some good accounts of the sport at certain periods in time (e.g. Woodgate and Lehmann). There are lots of books on the boat race (e.g. Ross and Wenham), as well as some relating to specific locations (e.g. Sherwood and Wenham on the Oxford scene).
C. Dodd, The Story of World Rowing (London, 1992)
R. C. Lehmann, The Complete Oarsmen (London, 1908)
G. Ross, The Boat Race (London, 1954)
The Rowing Almanack [annual publication since 1861 – now the British Rowing Almanac]
W. E. Sherwood, Oxford Rowing (Oxford, 1900)
S. Wenham, Pleasure Boating on the Thames: a History of Salters Bros, 1858-Present Day (Stroud, 2014)
N. Wigglesworth, The Social History of English Rowing (London, 1992)
W. B. Woodgate, Boating (London, 1888)
Historic Trips on the River
You get the best flavour of what the river was like by the many accounts within periodicals and newspapers, but a couple of classic accounts include:
J. J. Jerome, Three Men in a Boat (London, 1889)
J. and E. R. Pennell, The Stream of Pleasure: a Month of the Thames (London, 1891)
Victorian Photography
There are many pictorial histories and complications on the Thames, but Henry Taunt and Francis Frith are early photographers that have produced many relating to the Thames.
Miscellaneous
Thames Conservancy, The Thames Conservancy 1857-1957 (London, 1957)
D. G. Wilson, The Making of the Middle Thames (London, 1977)
River Thames Alliance, Thames Waterway Plan 2006-2011 (2005) [a summary of the modern state of the river]
D. Blagrove, The Quiet Waters By (Kidderminster, 1998) [an account from a lockkeeper in the 1960s]